DIY: Headlamp Replacement
Pagi ini saya dapat kesempatan mengganti projection headlamp milik teman. Dia benar-benar apes kalau soal headlamp. Pertama retrofit ke MH1, hasilnya "tidak cukup terang" buat matanya. Akhirnya ganti ke e46 di installer yang sama. Cuman hasilnya parah: miring kemana-mana. Akhirnya setelah re-dealing dengan main sellernya, diputuskan dia pesan headlamp utuh berikut e46 terpasang di dalamnya. Dan beberapa hari lalu (setelah menunggu beberapa bulan) akhirnya barangnya terkirim.
Jam 7 datang langsung saya bongkar. Setelah bumper lepas, saya copot dulu satu headlamp. Dudukan D2S berbeda dari dudukan H1 jadi saya perlu lihat medan dulu. Setelah yakin bisa, baru saya bongkar kabel-kabelnya. Whoa! tutup karet headlamp diseal pakai silicon! Untung gampang ditarik. Yang heboh bulb retainer juga diseal, tapi pakai epoxy! Hahaha!!! Di dalamnya ada bulb Cnlight 5000K. Supplier di Surabaya kirimnya 4300K (padahal sudah pesan yang 6000K). So akhirnya tidak bisa diganti. Yang kiri foto retainer yang di seal sama installer, yang kanan foto retainer yang saya pasang. Ga perlu di seal pun sudah kencang kok.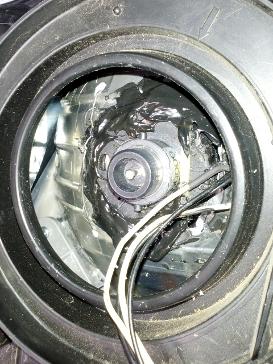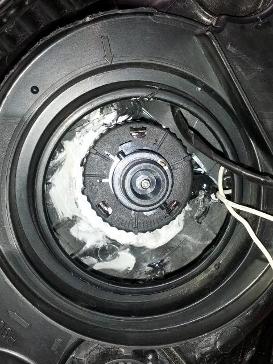 Setelah ditest low beam, hi beam, dan AEnya, saya pasang deh dan lanjut dengan headlamp satunya lagi. Dan voila! Pas! horisontal kedua headlamp sama, ketinggian cutoff juga mirip-mirip… rata lah mengingat supplier di Surabaya melakukan retrofit tanpa dicoba di atas mobilnya. Entah gimana caranya.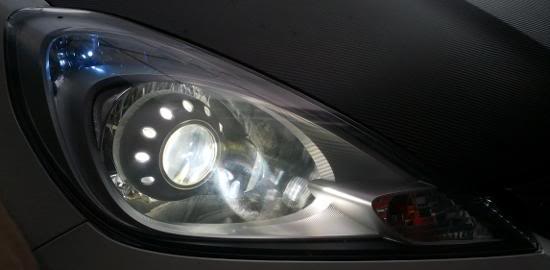 Dah ga sempat coba-coba lebih lama lagi karena teman saya sudah ditelpon dua kali sama istrinya… keknya dah mau melahirkan… hehehe… Have fun Bro with your new headlamp!